"Finally, I can tell you the secret," Amanda said, as she pushed something into my hand. A folded paper and something wrapped in colored tissue. "Happy Mother's Day," she sang in a cloyingly sweet pitch.

This is what she presented me with:



Backtrack a few days: Amanda came up to me, as if taking my order, with notepad and pencil in hand, and asked, "What colors do you like?" I told her I currently like blue, green, and white. She wrote furiously, pausing only to ask me how to spell the word white. Then she scurried off and shut her bedroom door. "It's a secret! Don't come in here!"

She had asked so she could make my Mother's Day gift.

When I opened the card, she had drawn this little picture of us: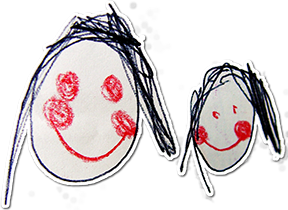 Abigail also presented me with a gift of her own. She suddenly began walking. And walking. And walking! At almost 15 months, she has finally found her wings. :grin: I now anoint myself CHASER of TODDLER.

The catch in my throat has not gone away since this spectacular Mother's Day. And I hope it never will.