Oh yes, our annual gingerbread house making hoedown happens the day after Thanksgiving in the Lee household. This year we purchased two kits - one for each child - to preserve world peace, and also to allow creative license. Can you tell which reason was more pressing?

Once Mom and Dad relaxed about the potential messes and stopped fussing with paper towels and wet wipes, you could actually hear a pin drop for over an hour. An HOUR!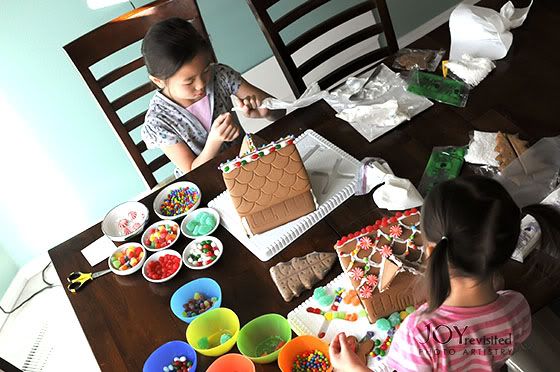 Abigail did surprisingly well with all the candy - only five pieces went in her mouth, and the decapitated gingerbread boy was fixed with icing:




Love how she tucks her legs under herself.

Amanda went to town on this, as she is now the third-year veteran gingerbread house maker:




Is that an anatomically correct gingerbread boy, or his collar? Hmm.

Keepin' it real - behold, the kitchen:




All in all, a fun tradition for the kids!