I am the hybrid editor and contributor for the ScrapMatters Newsletter, and last month, I got a chance to share a project I think would make a great Christmas gift (or for any occasion, for that matter).

Andilynn Designs' Flora Brushes are so lovely - they screamed for something more than to be used on a normal digital layout. So, I decided to embellish this old turtleneck my daughter had in her closet:




You can actually embellish textile, really. On bags, blankets, you name it.

Here are some supplies you'll need:



Open an 8.5"x11" document in Photoshop and place an image of choice. I offset the brush to the right:



You'll be printing the above image on the paper side of freezer paper. The easiest way to do this is to cut a piece of freezer paper 8.5"x11" and adhere it to a regular piece of paper. Use double-sided tape on the WAXY side.



Once the design is printed on the freezer paper, you will cut it out using your Xacto knife. My design was very intricate, so it took me forever:



Don't forget to keep the negative space pieces. Because my pieces were tiny, I collected them in this cup and numbered each piece:



Now iron the freezer paper onto your garment. Do you see where I noted the placement of the negative pieces?



Place a piece of freezer paper under the place you will be painting, then lightly load your brush and stipple the area (If you add textile medium to your acrylic paint, I hear the design will last through many more wash cycles without fading):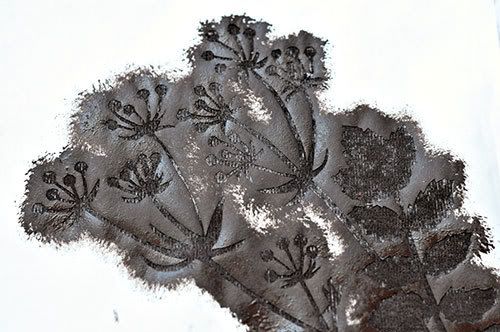 Peel off the freezer paper design once the paint is dry:



And voila, you're done: